Technical Support Programs
Global Technical Support Programs
Optimize your security with proactive or on-demand engagement options.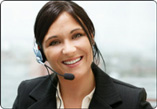 To learn more about our available programs, please:
Why Technical Support Offerings?
With global facilities and its staff of highly trained technical service engineers, Technical Support delivers 24/7 support for your data security issues. Rapid case resolution is complemented by a one-stop, online technical support portal that offers a wealth of resources for customers taking a more proactive approach. Search the knowledge base, log/track service requests, sign up for tech alerts and much more. Highly proactive support options include: frequent holistic account reviews, solution health checks, migration planning, upgrade assistance, and even on-site visits. These optimal support options allow you to advance your security posture, enhance network infrastructure and embrace new technologies and solutions with confidence.
Maintain an Optimal Defense Posture
Choose the right combination of services, at the appropriate response levels, to meet your organization's needs. Select the options that meet your requirements in key areas such as:
Prioritized Call Handling – From toll-free numbers to dedicated Technical Account Managers, choose the option that meets your requirements for fast access to a qualified technical support engineer.
Secure Support Portal – Confidentially submit and track support cases, or enjoy unlimited access to the knowledge base and your account.
24/7 Global Support – High severity cases cannot wait for holidays or weekends. Choose from a centralized support model, or elect a plan that supports a globally distributed, regional support model.
Proactive Audits – With a constantly changing threat landscape, a number of regular review and audit services can help ensure your defenses are always at their maximum effectiveness.
Planning Assistance – Avoid costly mistakes during migration, upgrade or similar activities with proactive assistance.
Customized Training – Ensure that your staff knows how to use our solutions, extracting maximum value for your unique environment with a course designed by you and your dedicated Technical Account Manager.
Support Programs
Premium – Your business doesn't stop for weekends or holidays and neither do we. With global facilities and highly trained technical support engineers, Premium Support delivers 24x7 support for your critical issues. Rapid case resolution is complimented by a one-stop online technical support portal that offers a wealth of resources for Premium Customers. Search Knowledge, log/track service requests, sign up for tech alerts and much more.
With severity-one response time targets of one hour or less, Premium Support customers can be certain that their most critical issues are worked continuously until resolved with our "follow-the-sun" support model. With Premium Support you can ensure maximum performance, reliability, and availability of your solution.
Premium Priority – Need enhanced support coverage? With Premium Priority, you get all the advantages of Premium Support, along with an assigned escalation manager, quarterly Support newsletter, and shorter target response times.
MCS – Your business is complex. You need to know that you are protected from zero-day threats and malicious or accidental data loss. And you need to be confident that you have the support processes in place to prevent downtime when issues arise to keep your business operational. Mission Critical Support provides Essential Information Protection™ for your mission critical systems and is designed to minimize production outages and ensure seamless version upgrades. With access to senior engineers that understand your environment, you always receive proactive and expedited support to keep your business running, around the clock.
Mission Critical Support combines all the benefits of Premium Support with a superior level of technical response coordinated by a highly proactive Technical Account Manager (TAM ). You need Mission Critical Support to protect your essential information and maximize your investment.
MCS Elite – Go beyond mission critical support with MCS Elite. You'll get all the benefits of mission critical support as well as quarterly health checks, more designated contacts, and reduced critical issue target response times. You'll also receive two onsite visits per year, up to eight hours of customized training, and available onsite upgrades and technical assistance.
MCS Global – Enjoy all the benefits of our MCS program in each of your regions. Your organization will receive a Global Account Manager, with proactive Technical Account management, health checks, account reviews, onsite visits, and roadmap reviews for each region.